Crowns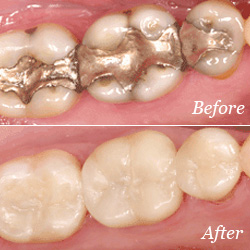 When there is extensive damage to teeth from either decay or trauma, and the treatment area is too large to be restored by tooth-colored fillings, porcelain crowns would be the preferred treatment. Depending on each individual condition, we offer crowns made of either all porcelain or porcelain fused to high noble gold.
Crowns are "cemented" onto an existing tooth and fully cover the portion of your tooth above the gum line. In effect, the crown becomes your tooth's new outer surface.
Unlike fillings which apply the restorative material directly into your mouth, a crown is fabricated away from your mouth. Your crown is created in a lab from your unique tooth impression which allows a dental laboratory technician to examine all aspects of your bite and jaw movements. Your crown is then sculpted just for you so that your bite and jaw movements function normally once the crown is placed.
Bridges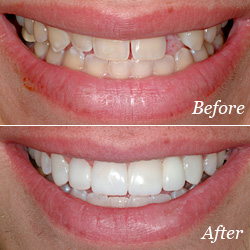 When spaces exist due to missing teeth and dental implants are not an option because of a patient's medical history, bridges are placed to cover the empty spaces. The adjacent teeth on either side of the missing space are recontoured and used as abutments for the bridge. The final bridge is cemented or bonded to your teeth and it is not removable. More than one missing tooth can be replaced by a bridge when indicated. We use both all porcelain and porcelain fused to high noble gold for all the bridges we fabricate depending on different existing circumstances.
Please feel free to contact us regarding a consultation for replacement of your missing teeth.